1. Save Paper/Reduce Carbon Footpri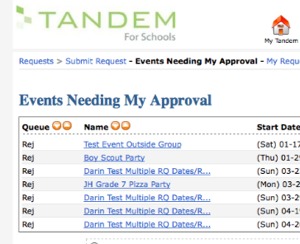 nt
A school can be more environmentally friendly by not printing out all their school calendars for all the students or printing out reminder fliers for upcoming events. Instead by directing everyone to the online school calendar, students and parents can get all the school event information in one place and schools can reduce their carbon footprint.
2. Save Time for School Administrators
Creating a paper school calendar can be very time consuming. A school can have over a hundred different groups, including clubs and sports teams. To create a central school calendar means organizing all the different groups into one calendar and working out time conflicts. When you think you're done, a group may need to make a change, which can mean reworking the entire calendar. Sometimes a group may try to request an event in a facility that has already been reserved by another group and you are required to play phone or email tag to get the conflict resolved.
An online school calendar like Tandem streamlines the event management process. Groups can submit requests to add events, and the administrator can accept or reject with a click of the mouse. The software automatically checks for schedule conflicts before an event is added to the schedule.

3. Reduce Phone Calls to the School
One labor cost that schools often face is calls from parents, due to uncertainty about the school schedule. They may want clarification on when school will start on a given day, or the time of early dismissal. They may call to see if a baseball game has been rained out, or for the place of that days sporting event. These types of calls can be reduced by having an online school calendar that parents can access for answers to these simple questions. Often Tandem users inform us that setting up an online school calendar has greatly reduced the number of calls to the office.

4. More Effective School to Parent Communication
When a paper school calendar is sent out to parents, they may post in on their fridge or it may get lost. If they lose the paper or do not receive it, they are often left in the dark. Usually a paper calendar is good for informing parents about school vacations, but little else. A paper calendar can not alert the parent when an event has been rescheduled.
In contrast, an online school calendar is a living document. Parents can access the most up to date version of the school calendar in minutes. When changes are made to the time or place of an event, it is reflected to the online calendar as soon as it is posted. With Tandem, the school events can be synced with the parent's Outlook, iCal, Google Calendar, or Cozi, so events will show up in their work or personal calendar as well. An online school calendar is much more convenient for parents, and provides them with instant information that they need.

5. More Effective School to Student Communication
Students also want information about what is going on at the school, both during school hours and after. An online school calendar is a great source of information on events that students want to be involved in. They can also learn about clubs that they might otherwise not know about, but would like to join to build their college resume and make new friends.
Tandem also provides a feature to where students can post pictures and news about school events and groups. This feature can be used by students to share photos and news with peers, like the math club hoisting the first place trophy or the stats of last Friday's football game.