Twas the time before Tandem, when all through the schools,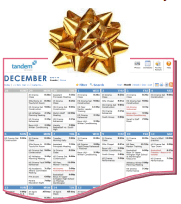 Conflicts were happening , and no one had the right tools.
There were tedious Excel sheets for every facility,
And hopes that someday there'd be peace and harmony.
Gyms and cafeterias were a mess people said,
While visions of optimization danced in their heads.
Facility Managers were ready and the community too,
For a solution that didn't involve paper and voodoo.
When out on the internet there arose such a buzz,
Schools and districts everywhere sprang to see all the fuss.
When, what to their wondering eyes should appear,
But Tandem For Schools that would become oh so dear.
Happy Communication to all, and to all a headache-free Night