Edutopia has an article about using Google Calendar as your school calendar titled Online Calendars: Virtual Schedules Help Busy Educators.
"The first tool I'd like to explore is the online calendar. Keeping an electronic calendar is nothing new, but you'd be surprised at how few people use one. It took me several years to let go of my paper-based day planner, but once I settled into the digital-calendar world, I never looked back."
Google Calendar is a great improvement over a static page that lists key dates for the school year, which may or may not be accurate. Google Calendar is a free online calendar web application that is easily accessible to parents, students, and staff by going to the designated web page. It can also be embedded directly on a web page. In short, it is a quick and easy solution for a basic web calendar.
While Google Calendar is a good basic calendar, it lacks a lot of functionality that schools needs to manage school events and facilities. Tandem was designed specifically with schools in mind, so it performs several functions that help make school administrators jobs easier and helps communicate school information more effectively to staff, students, and parents.

Making School Administrators Jobs Easier
Tandem for Schools goes way beyond Google Calendar, with a built in request system that streamlines facilities requests. School staff simply logs in and clicks on "Submit Event Request" from the "Requests" section of the dashboard. The administrator in charge of the calendar simply receives the requests and can approve or deny it. There's no paperwork or phone/email tag needed. Tandem automatically checks for any schedule conflicts, avoiding double booking of facilities. This system makes it much easier to coordinate the multiple sports teams and other school groups.
It is also  very simple to make changes to the calendar, when times change, and parents and students see those changes reflected right away. Schools have reported much fewer phone calls because there is a simple real time source of information for parents.
Tandem for Schools has a dedicated support staff that will help you get up and running fast and answer any of your questions.

Communicate More Effectively
While Google Calendar is a good basic internet calendar, it can be hard to read at times, since the name of the event often gets cut off. Google Calendars boxes are a fixed size so it can quickly get cluttered and unreadable. Tandem for Schools has a better design and layout from a usability standpoint with boxes that expand dynamically so that you can easily read all the event names. It is also easy for viewers of Tandem for Schools to filter the calendar to show only events that are relevant to them. Since Tandem for Schools is much less cluttered than the Google Calendar, you can fit a lot more events on the Tandem for Schools calendar. This helps everyone get a big picture of everything that is going on at the school, which encourages students and parents to get involved in extracurricular activities.
An example of a school using Google Calendar: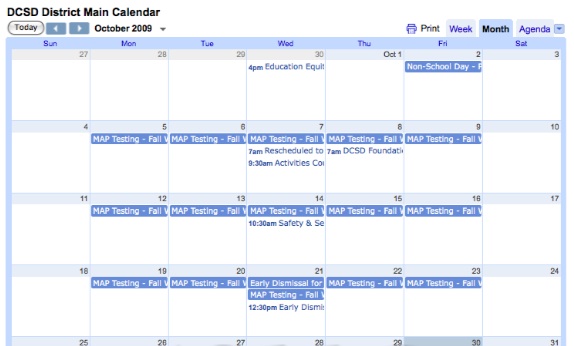 Tandem for Schools Calendar: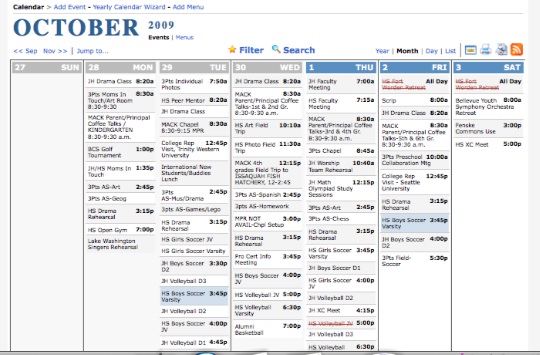 Interested in learning more? Sign up for a free 1 on 1 demo on your computer (via Go To PC) or sign up for a free 30 day trial of Tandem Plus.