A Facebook app is now available for EVERYONE to use on their Facebook page. It is a free app that displays your page's events in a more user friendly way. To add the Tandem Calendar, log into Facebook and visit http://apps.facebook.com/tandemcal/. Here you will have the ability to add it to any Facebook page that you manage. It will then display like this on your Facbook page's calendar tab: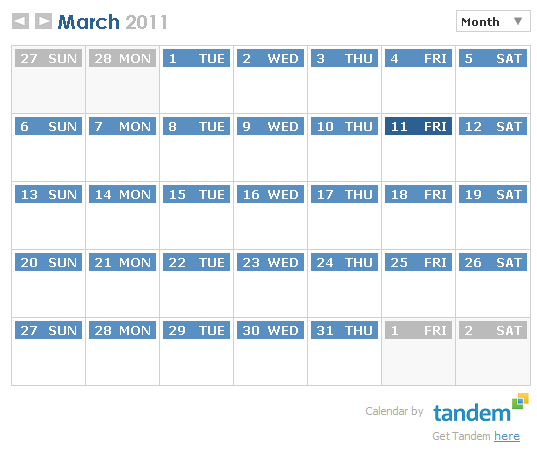 Thank you to everyone who attended the Tandem Social Hour and made it such a great success! We had about 20 people join us for appetizers and drinks at Daniel's Broiler on the 21st floor of the Hyatt in Bellevue, WA. The meeting started with a introduction by Bryan Otis, CEO, where he discussed our recent additions of Twitter, Facebook, and QR Codes. He ended his presentation by introducing our new UI that is still in development. His presentation was followed by  a presentation from Darin Hanson, Customer Support Representative, where he highlighted the success that schools across the nation are having with Tandem.
The event ended with attendees discussing their favorite online school calendar!