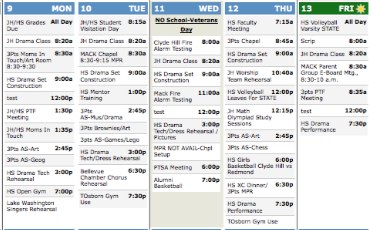 Customizable and convenient are the adjectives that best describe Tandem for School's online calendar. The convenience of an online format is ideal for busy modern families, while today's technology makes it possible to tailor calendars to suit individual needs. What advantages does Tandem offer parents?
Convenience of Access

Accessing Tandem's online calendar tool is as simple as logging on by computer or any internet-enabled device. Wherever and whenever an internet connection is available, parents can get the latest information on school events without having to rely on harried office staff for accurate updates. Never miss another chance to cheer on your team or forget to pick up your child from an after-school activity because the school's front desk was closed!
Search, Filter, and Track Options

Whether your busy schedule leaves you short on time or you just prefer simplicity, Tandem's search, filter, and tracking features are the answer. Tandem takes the headache out of keeping up with multiple schools and assorted extra-curricular activities. From the comprehensive calendar, choose to display just the events that pertain to your child. Need the latest information in a hurry? Simply enter the event you're seeking into the search bar and you'll be presented with all matches. Search and sort by keyword, group, school, or event with the option to view by day, week, month, or year.
In addition, it's possible to access details from the calendar by clicking on an event to get contact and travel information and more. Need directions to an out-of-town game or band concert? Click "get directions" in the event detail display and you'll be connected to Google Maps with the destination information ready.
Interested in following a particular team or club? Whether your child is a participant or you're just a fan, use Tandem's tracking feature to get the latest event information with email updates simply by clicking "track this group". For even more convenience, choose "set reminder" for a given event and you'll automatically receive an email notice for upcoming events. Designate a reminder interval and you'll get an email alert hours in advance – the time-frame is up to you!
Integrate Tandem with your Personal Calendar

Maximize the potential of this helpful technology and enjoy the advantage of being able to export information to a personal calendar format like Google, iCal, or Outlook. Automate the process by synchronizing your own calendar with Tandem and the events you specify will be posted without having to lift a finger!
Added bonuses of online calendar's like Intand's version include print-capability and the option to subscribe to receive RSS feeds for updates. As registered users, parents can contribute photos and news briefs for events, as well as upload photos and forward email with event details to friends. Tandem takes some of the stress out of "parent involvement" so you can relax and enjoy these precious school years.